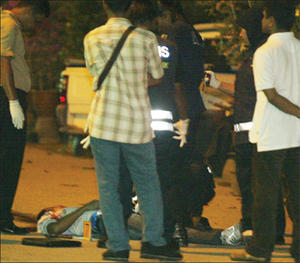 IT could have been yet another easy target for two robbers who dragged a pedestrian into their stolen car near the Damansara Specialist Centre in Damansara Kim last night.
Held at knifepoint, the 25-year old Myanmar national complied when the robbers demanded money. But an anti-crime raid was taking place in the vicinity and a policeman had spotted the abduction.
"We also got a tip-off from the public on the incident," said Selangor CID chief SAC II Hasnan Hassan. "Two police cars immediately gave chase and caught up with the suspects after about 1.5km."
That was when the robbers crashed into one of the police cars, causing both the vehicles to spin out of control. One of the robbers got out of the car and ran, but was stopped by the other police car about a 100 metres away.
"The suspect pulled out a gun and shot at the police car," said Hasnan. The policemen returned fire and the suspect was fatally shot." A Lomac .32 semi-automatic pistol was later found on the suspect. Meanwhile, the other robber who had ran towards the police car wielding a parang was also shot dead.
The rescued Myanmar victim suffered minor bruises.A Honda Civic, believed to have been stolen from Subang Jaya recently, was seized.
Hasnan said the suspects, aged between 25 and 30 years, had records for robbery, rape and drug-related offences. They are also believed to be part of a gang which is wanted by the police. One of the dead suspects is believed to have been involved in the abduction-murder case in Kepong almost a fortnight ago. In that incident, two men had been abducted after a wedding. One of the victims was killed while the other badly injured. Police said RM30,000 had been withdrawn from the dead victim's credit card account, prior to his murder

Pollathavan

GodFather - Lord of NAI





Number of posts

: 3594


Location

: 3rd Rock from the SUN


Job/hobbies

: Bharathanathyam & Kung Fu


Humor

: Me Dun Hv Any Humor. Me Serious!


Registration date :

2007-10-28



can they also shoot to kill the Mat Rempit?
Well...police will neva do that...it's us who shld be doing it...but if u r an indian or chinese mat rempit then u would hv been dead by now...

Pollathavan

GodFather - Lord of NAI





Number of posts

: 3594


Location

: 3rd Rock from the SUN


Job/hobbies

: Bharathanathyam & Kung Fu


Humor

: Me Dun Hv Any Humor. Me Serious!


Registration date :

2007-10-28




---
Permissions in this forum:
You
cannot
reply to topics in this forum