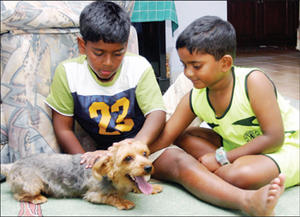 YOUNG Naveen was devastated on March 23 when his best mate Max went missing. The usually vibrant nine-year-old lost his youthful enthusiasm ever since that moment. For days the boy wept. He also lost his appetite, much to the dismay of his parents.
But there was to be a happy ending to Naveen's sad episode, and it happened when his father returned home last week.
The moment Naveen saw that his father had his lost friend in his arms, and Max 'smelt' familiar territory, both were overcome with joy.
Seeing Max after nearly two months, the family felt it was close to a miracle. "I was so upset," said Naveen. "I thought I'd never see Max again." Max, a two-year-old Australian Silky Terrier, is cherished by the whole family, including Naveen's father and his six-year-old brother Ajay. But it was with Naveen that Max shared a bond with.
On March 30,
Malay Mail
ran a story about the disappearance of several pedigree dogs in Subang Jaya. Based on a few leads, it was suspected that an old lady was behind it all.
For two months, Naveen's family never gave up hope and searched for their beloved Max. They went around their neighbourhood,handing out leaflets to neighbours with descriptions of their missing pet. Eventually, their search narrowed to a house in their neighbourhood, with help of corned residents.
According to them, the old woman who lived there had two kennels in which she kept many dogs. Naveen's father then planned the rescue. Pretending to be a dog breeder, he got in touch with the woman and claimed to be interested in buying one of her dogs.
True enough, the lwoman revealed that she had an Australian Silky Terrier in her possession. Naveen's father went to the woman's house... and with the help of police managed to retrieve Max.
"We are so grateful that we managed to rescue Max before he was sold off," said Naveen's mother yesterday. "We are also relieved that Max is in good condition and is healthy as ever."
The family decided not to press charges against the woman as they were happy just to get Max back.
"We have Max again and that's what matters," they chorused. And Naveen is not feeling lost any more, now that the Max factor is back in his life.

Pollathavan

GodFather - Lord of NAI





Number of posts

: 3594


Location

: 3rd Rock from the SUN


Job/hobbies

: Bharathanathyam & Kung Fu


Humor

: Me Dun Hv Any Humor. Me Serious!


Registration date :

2007-10-28





Similar topics
---
Permissions in this forum:
You
cannot
reply to topics in this forum