KUALA LUMPUR: One in two men who killed himself in 2007 was married, and the commonest event which preceded the suicide was a crisis with his "other half".
This was the findings of the National Suicide Registry Malaysia in its study of suicides for the June-December 2007 period.
Other problems like financial, legal and jobs may have also triggered the suicide.
Of the 113 suicide cases in the period, 82 were men, equal to a ratio of seven men to three women for every 10 suicides. Nine of the 31 women who committed suicide were married.
"Generally, men are more resolute when it comes to committing suicide. Women in a way are not, so much so they could still be saved," NSRM principal investigator Dr Nor Hayati Ali said here recently.
The NSRM was set up in early 2007 to compile data on deaths because of "fatal intentional self-harm".
Data was collected from hospitals under the Health Ministry, with plans to collect data from teaching hospitals.
The Health Ministry's Forensic Medicine Services and Psychiatric and Mental Health Services funded the registry while the Clinical Research Centre provided the technical expertise.
Last year, the Institute of Health Behaviour Research came on board to spearhead further research in this field.
"The NSRM aims to provide detailed statistics on suicides in the country by creating a nationwide system to capture data on suicide cases.
"This is vital for health prioritising and identifying areas that health providers should focus on," said Dr Nor Hayati, who is also the consultant psychiatrist and head of Kajang Hospital's Psychiatry Department.
Of the 113 NSRM-documented cases, 95 of them were Malaysians. The foreigners were three from Nepal, Indonesia (six) and one each from the Philippines, Singapore and Myanmar.
Among Malaysians, the Chinese topped the number of cases at 47, followed by Indians (31) and Malays (12).
Dr Nor Hayati said that the figures were "absolute numbers" and were not as accurate as "suicide rates".
Data compiled in the past had consistently indicated that suicide incidence was highest among the Indian community because of the number of suicides relative to their smaller population size.
Dr Nor Hayati said based on the 2007 NSRM report, more than half of the suicide victims were employed while 27 per cent were jobless. The rest were part-timers or temporary workers, retired and on disability pension, while three per cent were housewives.
There were also nine students, including six women, among the victims. "Only one was a Malay, aged 22, the others were five Indians, two Iban and one Murut aged between 12 and 17.
"School problems were cited as the cause in two of the cases, intimate partner problems in another two, while for the rest, no life event was identified."
She said hanging was the most favoured suicide method among all three races.
She said based on interviews with informants, 72 of the 113 suicide cases did not indicate or tell anybody that they wanted to end their lives. -- Bernama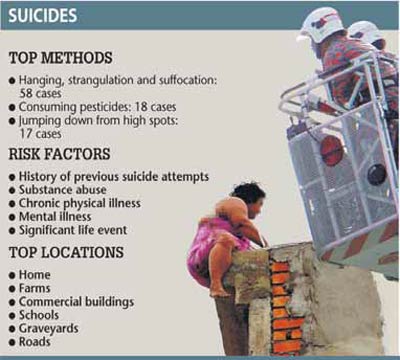 Priya

GodFather - Lord of NAI





Number of posts

: 1838


Location

: Royal Town


Registration date :

2008-02-18



errr....is that a man in that picture? macam pompuan jer?
moral of the day?

u kawin u die!
how come u r still alive?

Maya

GodFather - Lord of NAI





Number of posts

: 5106


Location

: kl


Registration date :

2007-12-19





Similar topics
---
Permissions in this forum:
You
cannot
reply to topics in this forum